Whether you're building a new home, or you'd like a new roof for your existing home, we specialize in roof installation at Housetop Roofing. We've won numerous awards and been voted the best of roofing contractors in the Raleigh, NC area. We also serve the surrounding areas and communities such as Wake Forest, Garner, and Cary, NC.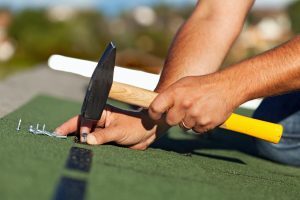 When it comes to roof installation, we don't believe in taking short cuts. We want to do the job the right way the first time. So, you can rest assured that your roof has been installed with care and expertise. When we install new roofs, we nail each shingle by hand, and this extra attention to detail will pay off for years with lasting quality. In addition, we only use our trusted employees, and no subcontractors, for our roof installations and all of our other home improvement jobs; so, you'll know exactly who you're getting when when you work with Housetop Roofing.
For roof installation done right, look no further than Housetop Roofing in Raleigh, NC and Wake Forest, NC.
Which Roof is Right for You?
If you're building a new home or replacing the roof on your existing home, you'll need to decide what type of roof is right for you. There are a number of factors to consider when choosing your new roof. Some of these include:
the roofing material— popular choices include asphalt shingles, metal roofing, and clay tiles
the color— roofing materials are available in a number of colors. You will want to pick a color that both complements your home's style and the other colors of your home exteriors. You can also consider your area's climate and the amount of sunlight your home gets each day; these factors can help you determine whether you want a ligther or darker colored roof.
your budget— we offer free and accurate estimates, so if you have a budget in hand, we can help you see what type of roof works best for your budget.
roofing additions— such as solar panels, skylights