Did you know that at Housetop Roofing in Wake Forest, NC, we pride ourselves not only on building quality roofs, but also on offering a number of unbeatable home improvement services? Among those services, we build and repair decks.
Decks are a great space to enjoy the beauty of the outdoors with some of the comforts of the indoors. You can make your deck space extra comfy with outdoor furniture, rugs, and cozy lighting. 
Because of its constant exposure to the elements, your deck can really take a beating from the wind, rain, snow, and harsh rays of the sun. So, we'd like to share some deck maintenance tips with you to help you get the most life out of your deck. Here are our top 3 deck maintenance tips for you, our valued customer:
Tip #1: Seal Your Deck Every 1-3 Years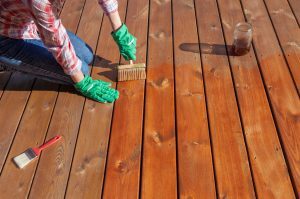 Sealing your deck is one of the most important things that you can do to take care of your deck. Sealant protects your deck from water, ice, and sunshine. However, after a while, your sealant will wear off, which is why you need to seal your deck every 1-3 years, depending on the amount of exposure your deck gets to the elements.
Before you seal your deck, you should clean it thoroughly and then sand any uneven areas. Also, make sure that you remove all of your furniture and anything else from the deck. You can use a paint roller or paintbrush to apply the sealant. Then, allow a day or two for it to dry before you replace your deck furniture. 
Tip #2: Use Outdoor Furniture to Protect Your Deck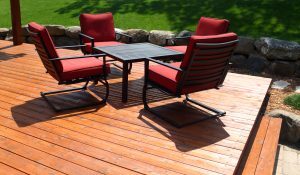 Outdoor furniture such as tables, chairs, sofas, outdoor rugs, and umbrellas can all add personality and comfort to your deck. In addition to that, they can also help protect your deck from the harsh rays of the sun.
To keep any part of your deck from receiving too much sunlight, you should periodically rearrange your furniture so that certain areas don't become more faded than others.
If you use an outdoor rug, make sure that you use one that's maybe specifically for outdoor use so that it won't trap in moisture and cause warping or mold growth. Plastic outdoor rugs are usually the best for this reason.
Tip #3: Clean and Repair Your Deck Regularly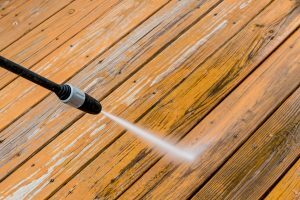 One of the simplest and most effective things you can do is to sweep your deck regularly. This is especially important once leaves start to fall. As wet leaves can stain your deck and cause water damage. Depending on the time of year, you may only need to sweep your deck every few weeks, but sometimes it may need it a few times a week. Just keep an eye out for yard debris.
For a deeper clean, you can use warm water and dish soap with a scrub brush. For an even deeper clean, you can pressure wash your deck, and it's a good idea to do this before you want to stain or seal your deck.
If you notice any loose or warped boards, you should repair and replace them as soon as you see them. This is important not only for your deck, but also for your own safety as loose boards and nails can pose a tripping hazard.
If your deck needs a professional touch, or if you'd like to build a new deck, give us a call at Housetop Roofing in Wake Forest, NC.