Housetop Roofing specializes in all things vinyl siding from vinyl siding repair to replacement to installation. Vinyl siding is an affordable and effective way to protect your home's exterior. In addition, vinyl siding is available in a number of styles and colors, so that you can choose the perfect siding to complement your unique tastes.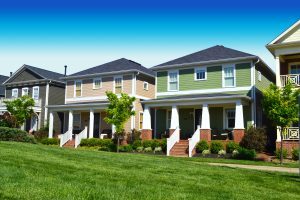 Vinyl siding is becoming increasingly popular for homes, and there are many reasons why. Some of the advantages of vinyl siding include:
It's low maintenance
It's durable
It's affordable
It's energy efficient
It's eco-friendly
If you're interested in installing vinyl siding on your home, Housetop Roofing in Raleigh, NC and Wake Forest, NC can help you out.
Vinyl Siding Maintenance Tips
Vinyl siding is extremely durable, and with proper maintenance, it can last you for many years to come. Here are some vinyl siding maintenance tips:
Clean your vinyl siding using a wash cloth, soft brush, water hose, and an approved cleaner (check to make sure a cleaner is okay to use on vinyl siding beforehand).
Inspect for breaks and cracks in your vinyl siding. Depending on the size of the crack, you may be able to repair it on your own, or you may need professional help.
Before pressure washing your home, check with you vinyl siding manufacturer to make sure that pressure washing is okay for your vinyl siding.
Have a vinyl siding professional perform routine maintenance and checks on your vinyl siding.