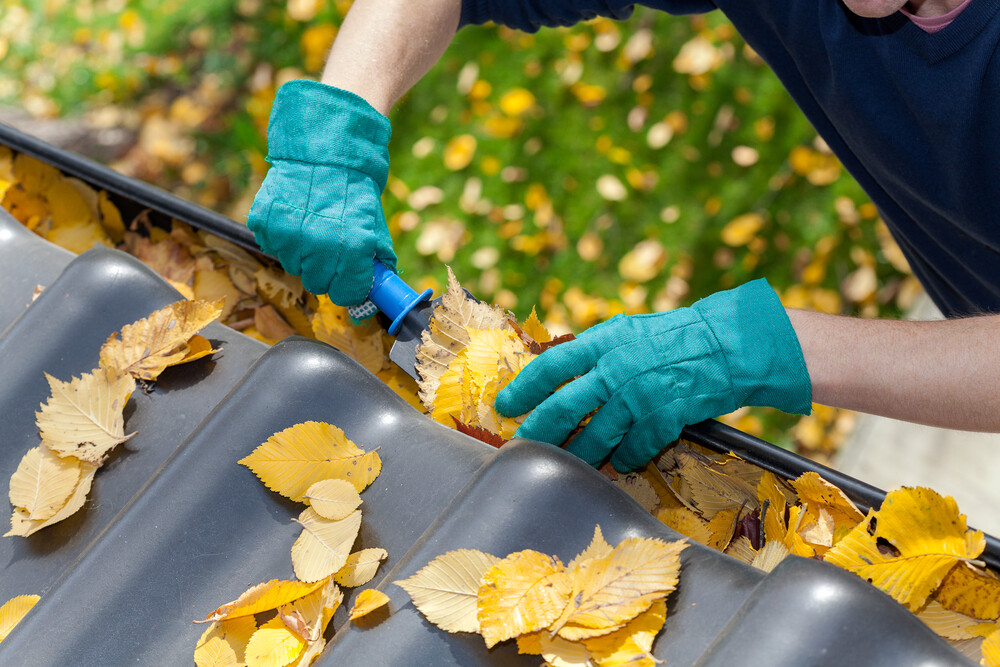 There would be fewer accidents, fatalities, and severe property damage if more property owners learned how to properly maintain their roof gutters. 
Gutter cleaning typically takes place in the fall to prepare them for the next wet or snowy season. Costly repairs may be necessary due to rainstorm damage or freezing if the gutter and downspout system is not functioning correctly.
However, keeping your gutters safe and clean year-round is a much better idea. If you are looking for a complete guide to keeping your roof and gutters safe and clean, keep reading Housetop Roofing's complete guide to roof and gutter safety. 
If you are short on time, you can skip ahead to any of these tips below:
How Do I Clean My Rooftop Safely?
Clean off the roof by power washing or raking all the debris. If not, the next rainstorm will wash all the trash into the cleared gutter, blocking it once more. 
Furthermore, debris that is left on the roof can cause water to pool in valleys, around chimneys, or close to heating, and AC (HVAC) systems, resulting in erosion and roof leaks over time.
If you plan to use a garden hose to clean off your rooftop, follow these tips: 
Use a standard garden hose with a trigger spray gun and a pistol grip.

With this spray nozzle, you can control the water pressure with one hand.

It is simple to hang a pistol-grip nozzle over the gutter's front edge while relocating the ladder or employing a gutter scoop.

You can get this kind of spray nozzle at any hardware shop.
How Can I Unclog My Downspouts?
Check to make sure that the downspouts are clear. After cleaning the gutters, run the water hose down the downspout at maximum strength. A blockage is present if water backs up from the top. 
Typically, it may be unclogged by tapping on the downspout's side. If it doesn't work, the downspout and back should be removed and flushed from the bottom. 
If there is a clog and the downspout is attached to an underground drain, the bottom of the downspout should be disconnected from the underground drain. Otherwise, the obstruction might spread to an underground drain.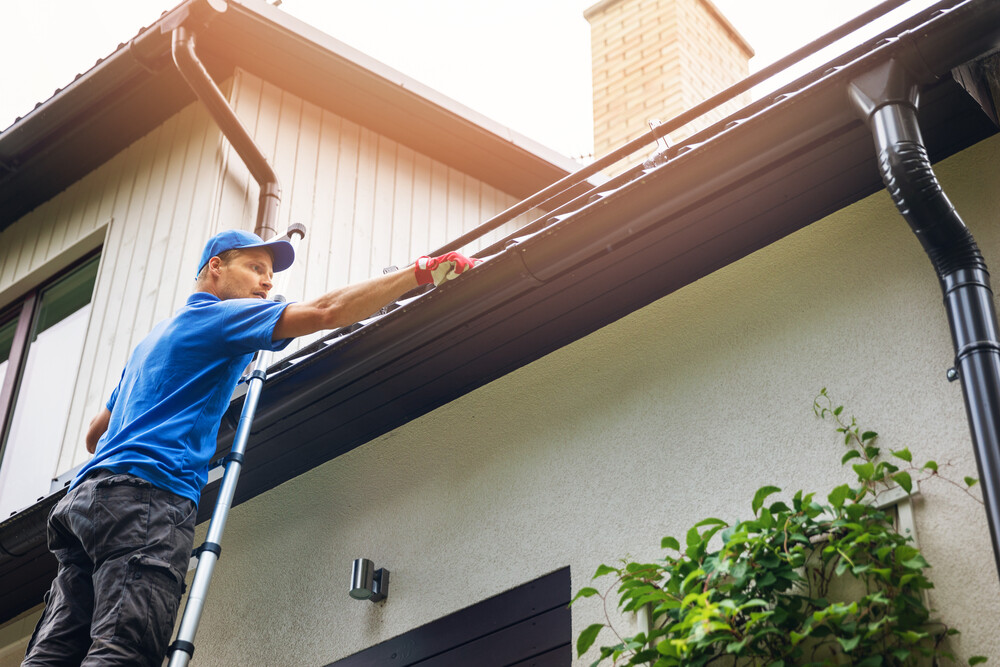 Should I Invest in Gutter Guards? 
Using a proper gutter guard can minimize the need for gutter cleaning. Before choosing a gutter protection system to keep out leaves and pine needles, carefully consider the manufacturer's claims because many warranties are made that cannot be fulfilled. If the claims sound too good to be true, they most likely are. 
How Can I Practice Ladder Safety When Cleaning Out My Gutters?
If you are ready to clean out those gutters, here are some ladder safety tips to consider first: 
Always notify someone if you want to use a ladder to clean your building's roof or gutters.

To collect gutter debris, use a safe and robust ladder, preferably one with a small shelf strong enough to accommodate a five-gallon bucket, and secure the bucket with a rope.

A four-legged step ladder is appropriate for a single-story building. An extension ladder is suitable for a two-story or taller construction.

An orchard ladder should not be used since it only has three legs for stability and can become imbalanced.

A wooden ladder is also not advised since it is frequently unsteady and difficult to balance correctly.

Fiberglass ladders appear to be the most durable but also the heaviest.
How Can I be Safe Around Power Lines?
When cleaning gutters surrounding a power line cable that lowers from a power pole to a building's roof, examine the electrical cable where it attaches to the roof. 
This is to check that the protective wire insulation hasn't worn away over time due to weather and adjacent trees. If the cable looks damaged, do not attempt to repair it yourself; instead, contact a qualified professional electrical contractor. 
If it is raining and there is a wiring problem, do not attempt to clear up the gutters until the wires are repaired; water is a deadly electrical conductor. Before clearing up your gutters, you should get the electrical wiring fixed, whether it's raining or not.
Final Thoughts
Maintaining your roof and gutters sounds like a chore, but proper maintenance will save you thousands in future repairs. 
If you are looking for the most trusted roofing contractor in North Carolina, look no further than Housetop Roofing. Call our experts today if you have questions about your roofing or gutters.